Co-Create To Elevate! 
Successful Co-writing and Collaboration Workshop
sponsored by RISA - Rhode Island Songwriters Association
Co-Writing, the art of playing well with others 
Have you ever wondered why today's big hit songs usually have two or more writers? There are so many benefits to creative collaboration!  
This hands-on, collaborative workshop will delve into the world of Co-writing, it's many benefits, how to successfully navigate the etiquette of the writing room and avoid potential pitfalls. You will learn how co-writing will enable you to take your songs to places that you could not have reached on your own and come away with a new array of tools for your Songwriter Toolbox. 

WHEN: Saturday January 14, 2017 at 12:30 PM - 4:30 PM 
WHERE: The Mediator Fellowship  - 50 Rounds Ave, Providence, Rhode Island 02907

HOW: Confirm your seat with an email to jmlurgio@verizon.net    More Info @ Facebook Event Page

RISA MEMBERS, FREE ADMISSION, Non-RISA Members, $15 at the door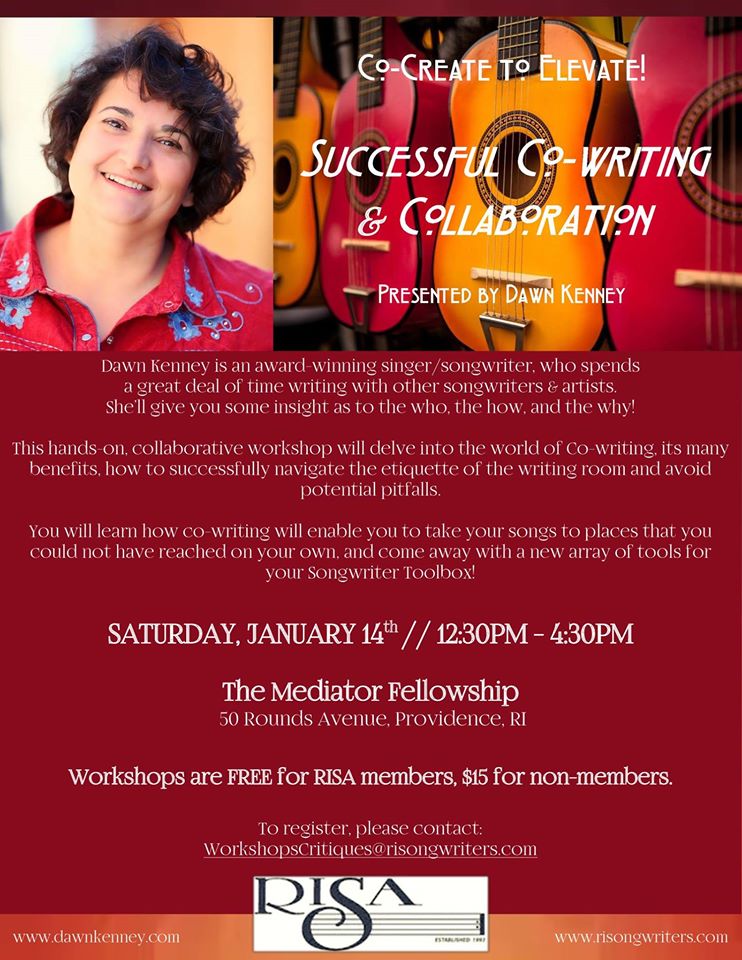 Songwriting Master Class


May 6, 2016 -  from 1 to 4 PM
Moose Acres,

1063 Douglas Grove Rd, Martinsburg, WV 25405
Songwriting Master Class
led by Dawn Kenney and David Morris. This before the festival class with take a deep dive into songwriting. We will touch on everything from packing images into your lyrics and fine tuning melodies to publishing and pitching. Bring your questions and enthusiasm!
Participants in this class will also receive an individual one hour private consultation/lesson with Dawn and Dave. To be conducted in-person during the festival or by appointment at a later date, via video chat or in-person as schedules permit.
That's a total of four hours of instruction from the songwriting duo that Steve Harris of Circa Blue calls the "A Team". Enrollment in this special class is limited to 12 participants. The Cost is $25.00 per person. (The usual cost of consultation/lesson alone is $35 per hour.)
Register and pay via Pay Pal Below
Circa Blue Fest Songwriting Program 2016
Three days of workshops and events for songwriters! Hosted by Dawn Kenney and David Morris, winners of the
2015
Chris Austin Song Contest
at Merlefest (with co-writer Mitch Matthews) and writers of numerous cuts for artists such as Dave Adkins, Circa Blue, Jim Hurst, Valerie Smith and others.
Festival Songwriting Workshops
Included in the price of your festival admission
Friday 4:30 - 5:30 PM  Developing Ideas
Where do those ideas come from? Finding and developing ideas. How to get started and knowing when you are finished.
Saturday 10 - 11:30 AM
Co-Writing
Sometimes, two heads are better than one. Where can you find a co-writer and rules of the road for a successful collaboration.
Saturday 1:30 - 2:30
Song Circle
Bring an original to share around the circle with fellow writers. All levels welcome!
Saturday Dinner Hour
Main Stage Songwriter Showcase
One or more participants in Saturday's workshop and song circle will be invited to perform
Sunday 9 - 10 AM
Gospel Song Circle
Sunday 10 - 11:30
Gospel Songs
Writing and pitching gospel songs